URGENT: SISD has four (4) School Board member openings! Please see announcement below. Due to the reappropriation determined by the recent census, we now have three (3) sections (instead of two). This means that there are now 2 seats available for the City of Thorne Bay but Thorne Bay is also now combined with Kasaan and the area east of Thorne Bay (see below for all section descriptions). Please consider running for a vacant SISD School Board seat and please share this post - especially at your city and community council meetings! The Term of Office listed below is staggered due to the reappropriation so that we do not have a complete turn-over in school board members every three years. Note: Candidacy filing deadline is 8/5/22. Search Google: Alaska 2022 Regional Educational Attendance Area (REAA) Election candidate filing information.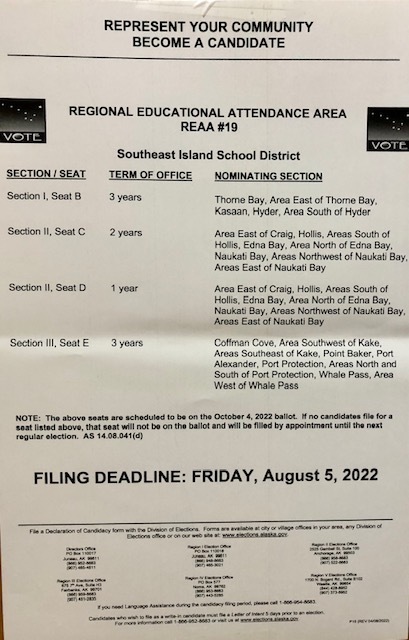 Southeast Island School District would like your input regarding our budget priorities for the 2022-23 school year. Please take a few minutes to complete the survey that can be found on our district website at sisd.org. Please select the button labeled, "Budget Priorities Survey" on the home page of our website. A link to this survey can be found on a number of SISD and local community Facebook pages and has also been emailed out to all staff. We have asked your local school to forward that email to all parents and to all middle school and high school students. If you would prefer a paper copy of the survey, please contact your local school and request a copy. This is a very important survey that all SISD stakeholders will want to complete. We want to hear from our secondary students, all parents/guardians, and communities members. Note for middle school and high school students: you will want to complete this survey because it includes priorities for 2022-23 elective and sports/activities preferences. The budget will be presented to the School Board during the Board's Work Session scheduled for March 23rd at 4:30pm.

2021-2022 Free & Reduced Meals Application Now Available! Families of students who will attend Howard Valentine Coffman Cove, Naukati, Thorne Bay, or Whale Pass School: please complete the Free & Reduced Price Meals Application available on the SISD Website Enrollment Packet page:
https://www.sisd.org/page/2021-2022-enrollment-packets
. Thank you!



Vision: Students are equipped to realize their dreams and aspirations. Mission: Together we will foster student skills to achieve their goals and adapt to an ever-changing world.




Reminder - all SISD schools on POW will be on Red/High Risk distance delivery schedule Jan. 4 - Jan. 7