Join Us for the Southeast Island School District Strategic Planning! Dear SISD Stakeholder, I hope this message finds you well. We are excited to invite you to participate in the Southeast Island School District Strategic Planning process. Your input and expertise are highly valued, and your insights will be instrumental in shaping the future of our district. Date: October 5-6, 2023 Time: October 5: 1:00 p.m. - 4:00 p.m.; October 6: 8:30 a.m. – 4:00 p.m. Location: POW Vocational Technical Educational Center in Klawock This strategic planning session will chart the course for our district's next growth and development phase. As a stakeholder, your unique perspective will help in defining our priorities, setting goals, and identifying the strategies needed. The agenda for the session will cover: Introduction and Welcome A long-term vision Concentration of effort through a focused mission supporting the vision Goal Setting and Prioritization Action Planning and Implementation Strategies Feedback and Open Discussion Ultimately, the goal is to enable SISD to help students to flourish. Please come prepared with thoughts, ideas, or concerns about the district's future. Your active participation will help us create a robust and inclusive plan that reflects the aspirations and needs of our community. Should you have any questions or require additional information before the session, please contact Chris Page Haufe at
cpage@sisd.org
or (907) 401-3126. We look forward to your presence and meaningful contributions at this crucial planning event. Together, we will shape a brighter future for the Southeast Island School District. Thank you for your dedication and commitment to our community. Warm regards, Rod Morrison Superintendent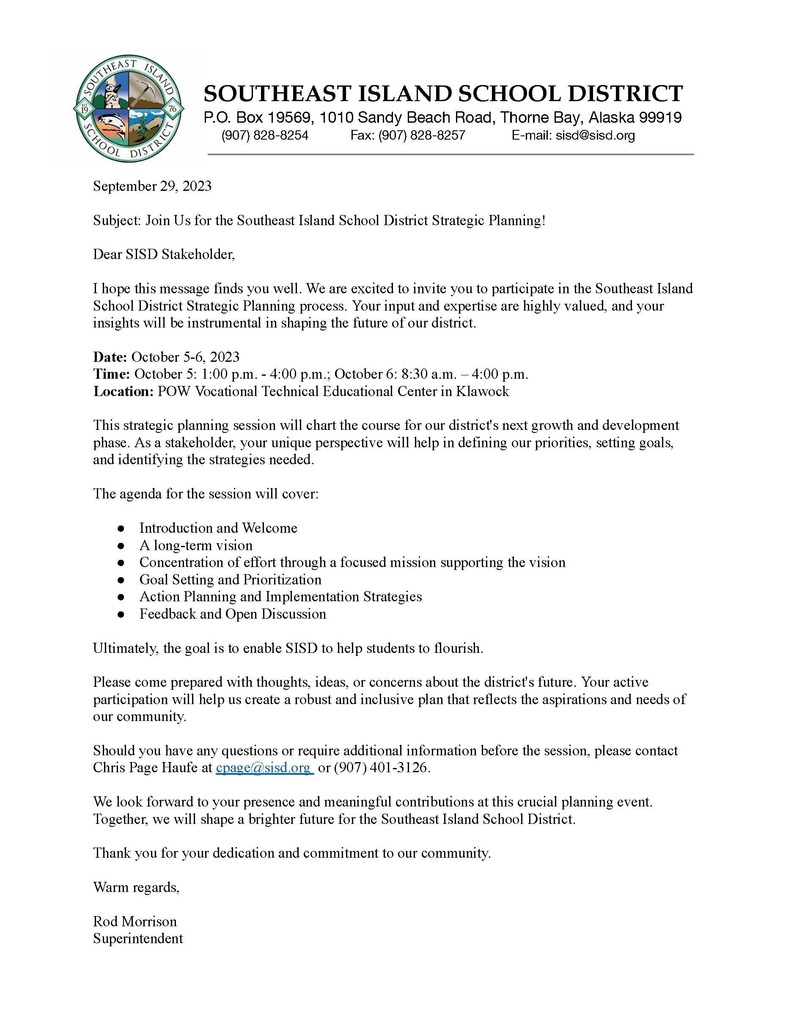 September 19, 2023 Dear [Parent/Guardian], We invite you to join us for a debrief session alongside your student to review the recent "bomb threat" and evacuation at all Southeast Island Schools today. Date: September 20, 2023 Time: Start of School Location: Your students' school site This debrief session is an essential opportunity for us to talk about the evacuation procedure and address any questions or concerns you or your student may have. We value your feedback, and your insights will help us further refine our emergency response protocols to ensure the safety and well-being of all students and staff. We sincerely hope you can join us for this critical discussion. Your participation is invaluable to us. Kind regards, Rod Morrison Superintendent Southeast Island School District

September 19, 2023 Good afternoon, SISD Staff and Families, We are pleased to inform you that after a thorough investigation and necessary precautions, we have determined that it is safe for all students and staff to return to school on Wednesday, September 20, 2023. Today, multiple school districts across Alaska, including the Southeast Island School District, received a bomb threat via email. This email has been reported to local, state, and federal law enforcement agencies. We chose to evacuate all of our schools as a precautionary measure, and we want to assure you that the safety and well-being of our students and school community are our top priorities. At this time, the threat is broad in nature and lacks specific information. We understand that you may have concerns or questions regarding the situation. Rest assured, we have taken every necessary step to ensure that all safety protocols have been enforced. We appreciate your cooperation and understanding during this process. Your support has been invaluable in allowing us to prioritize the safety of our students and school community. If you have any specific concerns or questions, please do not hesitate to contact the principal of your school (Nate Freeman for Thorne Bay School and Shaine Nixon for all other schools) or me. We are here to address any questions or concerns you may have. We look forward to welcoming all students and staff back to SISD on Wednesday, September 20th. Together, we will continue to create a safe and nurturing environment for learning and growth. Thank you for your continued trust and support. Warm regards, Rod Morrison Superintendent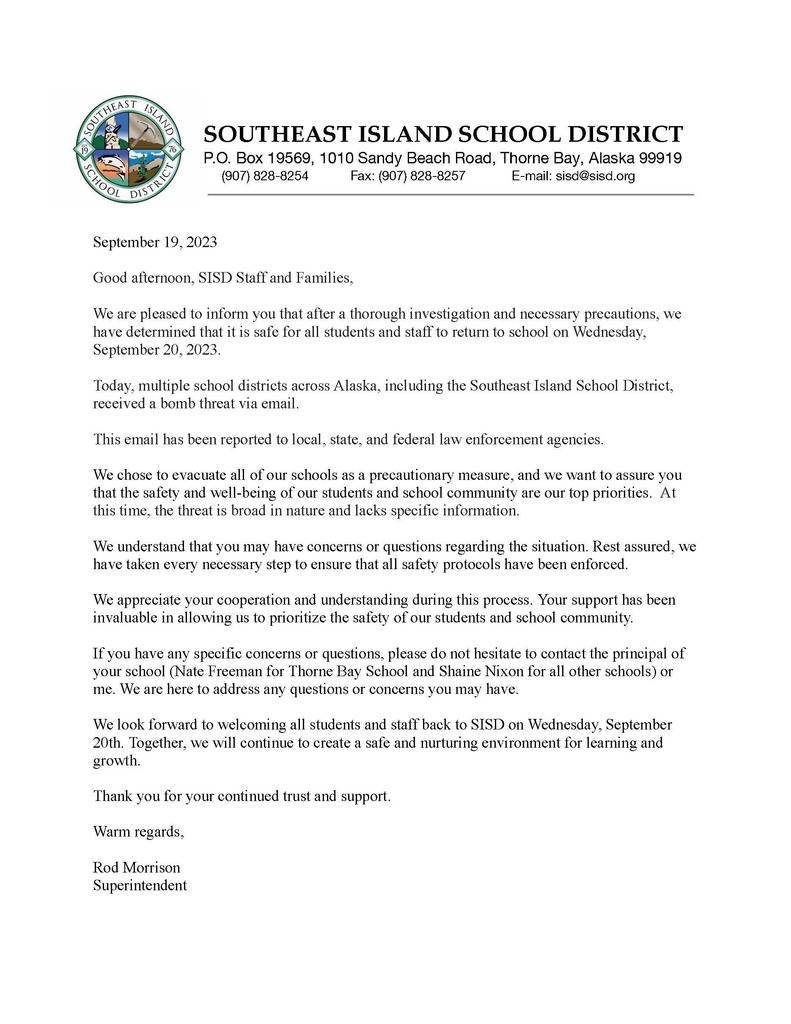 You are invited to provide input into Southeast Island School District's new strategic plan! Southeast Island School District is working on developing a new strategic plan. Developing a Strategic Plan is vital for moving the District forward -- the plan becomes the map for the board and staff to follow. It is vitally important that the plan is developed by a diverse representation of our community. This survey is being administered by the Association of Alaska School Board's Board Development team on behalf of our District and takes about 10 minutes to complete. Your responses to this survey will remain anonymous and individual responses will be combined when presented to the Board of Education and the team that is being pulled together to work on the Strategic Plan. Please note: any responses that contain names of individuals and / or foul language will be deleted. Thank you for taking the time to provide your input on our strategic plan. This survey will remain open through September 27. Here is the direct link to the survey:
https://forms.gle/UAm
8RS pbxhV 86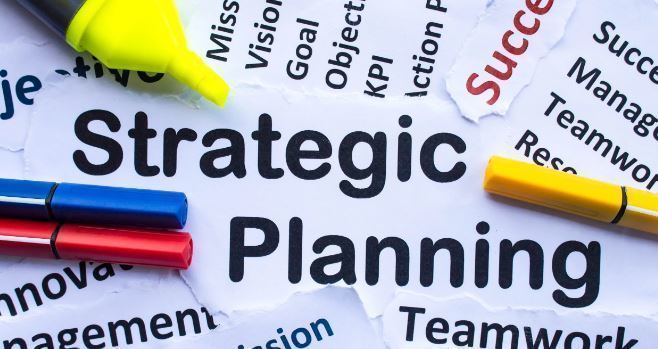 URGENT: SISD has two (2) School Board member openings! Please consider running for a vacant SISD School Board seat and share this post! **Note: Candidacy FILING DEADLINE is 8/4/23.** Candidate filing information can be found at this link:
https://www.elections.alaska.gov/districts/?r_id=reaa19
URGENT: SISD has four (4) School Board member openings! Please see announcement below. Due to the reappropriation determined by the recent census, we now have three (3) sections (instead of two). This means that there are now 2 seats available for the City of Thorne Bay but Thorne Bay is also now combined with Kasaan and the area east of Thorne Bay (see below for all section descriptions). Please consider running for a vacant SISD School Board seat and please share this post - especially at your city and community council meetings! The Term of Office listed below is staggered due to the reappropriation so that we do not have a complete turn-over in school board members every three years. Note: Candidacy filing deadline is 8/5/22. Search Google: Alaska 2022 Regional Educational Attendance Area (REAA) Election candidate filing information.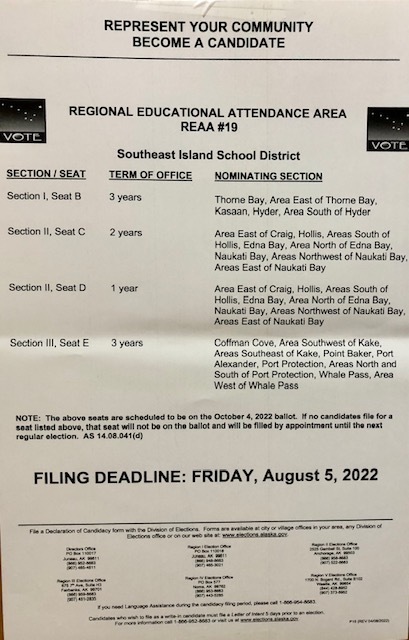 Southeast Island School District would like your input regarding our budget priorities for the 2022-23 school year. Please take a few minutes to complete the survey that can be found on our district website at sisd.org. Please select the button labeled, "Budget Priorities Survey" on the home page of our website. A link to this survey can be found on a number of SISD and local community Facebook pages and has also been emailed out to all staff. We have asked your local school to forward that email to all parents and to all middle school and high school students. If you would prefer a paper copy of the survey, please contact your local school and request a copy. This is a very important survey that all SISD stakeholders will want to complete. We want to hear from our secondary students, all parents/guardians, and communities members. Note for middle school and high school students: you will want to complete this survey because it includes priorities for 2022-23 elective and sports/activities preferences. The budget will be presented to the School Board during the Board's Work Session scheduled for March 23rd at 4:30pm.



Vision: Students are equipped to realize their dreams and aspirations. Mission: Together we will foster student skills to achieve their goals and adapt to an ever-changing world.




Reminder - all SISD schools on POW will be on Red/High Risk distance delivery schedule Jan. 4 - Jan. 7