Let our Thorne Bay graduating students cook for you tonight! Come and have pulled-pork sandwiches, baked beans, and coleslaw at 5:30 at the school. $10 suggested donation. Bring your wallet for the dessert auction. Advisory School Council meeting to follow at 6:30. Proceeds go to the senior trip!
Good afternoon, Due to the inclement weather and roads, the Thorne Bay bus route will be canceled for Thursday March 2, 2023. School will remain in session, for now, any students on the south side that does not make it in to school tomorrow will receive an excused absence. Thank you!
Dr. Seuss spirit week this week. Sleep in an extra 10 minutes and wear your pajamas to school tomorrow! Tuesday is crazy hair day, Wednesday is twin day or silly sock day, and Thursday we celebrate his birthday by dressing as a Dr. Seuss character. Parents! Join us at 2 on Thursday for reading and activities.
Double feature movie night tonight at the Thorne Bay School! Black Adam in the school commons for the middle school and high school. The Rise of Gru for Elementary in the gym. $3 fee gets you in the door with a free popcorn. Doors open at 5. Movie starts at 5:30. See you there!
Soup, Subs, and a dessert auction at the Thorne Bay School tonight at 5:30. Proceeds go to the our elementary and middle school wrestling team. ASC meeting at 6:30. Come and vote on our school calendar for next year.
Don't cook tonight! Come to the school for the taco feed and dessert auction at 5:30! Funds will go toward this year's graduates senior trip! Advisory School Council meeting at 6:30.
Thorne Bay School will hold our first elementary and middle school wrestling practice and parent meeting tomorrow, Monday. Parents, please join us in the gym right after school.
Saturday January 14, 2023 will be the first Archery tournament for the school year. First flight will be around 9:30am, archers will be doing 3 rounds at 10m, 3 rounds at 15m and the 3D animal shoot. A second flight will be around 11:45am doing the same as the first flight. Please plan on watching and supporting the archers. There will be another tournament in early February and the state Tournament will be near the end of February. Thank you!
This is a friendly reminder that Red Tide Wrestling Registration for elementary students K-5 is due today at midnight. Please see the Thorne Bay School website or facebook for the registration link and details.
Parents! Join us tonight, Thursday from 5 to 6pm while Mike Donahue from Value Up shares with us some tips about how to connect with your kids.
Don't forget to join us this evening for the Thorne Bay School Fall Festival starting at 5:30 going until 7:30. All kids will get 10 free tickets for a variety of games. Bring some extra money, if you would like! Check out our prizes on our Thorne Bay School facebook page! Pizza and other limited concessions available.

Parents!! Open house Thursday evening, August 25th, 4:30-6pm. Come meet your teachers, get some free books, and an ice cream float.
URGENT: SISD has four (4) School Board member openings! Please see announcement below. Due to the reappropriation determined by the recent census, we now have three (3) sections (instead of two). This means that there are now 2 seats available for the City of Thorne Bay but Thorne Bay is also now combined with Kasaan and the area east of Thorne Bay (see below for all section descriptions). Please consider running for a vacant SISD School Board seat and please share this post - especially at your city and community council meetings! The Term of Office listed below is staggered due to the reappropriation so that we do not have a complete turn-over in school board members every three years. Note: Candidacy filing deadline is 8/5/22. Search Google: Alaska 2022 Regional Educational Attendance Area (REAA) Election candidate filing information.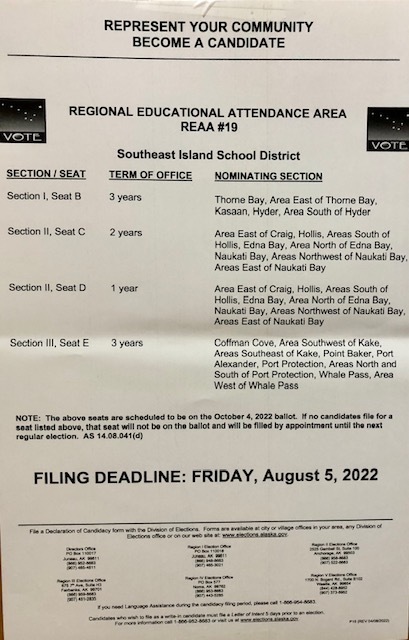 Southeast Island School District would like your input regarding our budget priorities for the 2022-23 school year. Please take a few minutes to complete the survey that can be found on our district website at sisd.org. Please select the button labeled, "Budget Priorities Survey" on the home page of our website. A link to this survey can be found on a number of SISD and local community Facebook pages and has also been emailed out to all staff. We have asked your local school to forward that email to all parents and to all middle school and high school students. If you would prefer a paper copy of the survey, please contact your local school and request a copy. This is a very important survey that all SISD stakeholders will want to complete. We want to hear from our secondary students, all parents/guardians, and communities members. Note for middle school and high school students: you will want to complete this survey because it includes priorities for 2022-23 elective and sports/activities preferences. The budget will be presented to the School Board during the Board's Work Session scheduled for March 23rd at 4:30pm.
The bus route for Monday January 3, 2022 has been canceled due to weather/road conditions. Any student that would usually ride the bus will receive an excused absence.

2021-2022 Free & Reduced Meals Application Now Available! Families of students who will attend Howard Valentine Coffman Cove, Naukati, Thorne Bay, or Whale Pass School: please complete the Free & Reduced Price Meals Application available on the SISD Website Enrollment Packet page:
https://www.sisd.org/page/2021-2022-enrollment-packets
. Thank you!